About Us

PRN for Families is a home-based program for families who have children or teenagers who are out of control or at imminent risk of being separated from their family. Families are also served who require transitional or reunification services to safely reunite them with their children following an out-of-home placement.

Families are unique

We use Love & Logic to open the lines of communication. Love lets children grow through their mistakes. Logic allows them to live with the consequences of their choices. This puts parents back in control, teaches kids to be responsible, and prepares young people to live in an imperfect world.

When you need a lift

Life can be challenging. Our mission is to empower family members with the tools, resources and support they need to stay together.  Our goal is to prevent unnecessary out-of-home placement by strengthening families and teaching them the skills they need to safely live together.

AfterCare Success

PRN for Families offers AfterCare for Voyageur Outward Bound Intercept Programs. This aftercare service helps support families in sustaining and further developing the lessons, tools and resources gained during participation in the Intercept program.

Every step counts

The transition into young adulthood may be more complicated for young adults who lack the experiences, skills or confidence to take that step. Our Tracks by PRN program helps young men and women make the transition from relying on their parents and family to stepping into an independent living situation.

Believe in Success

We believe in every family's chances for success.  We remain non-judgmental while assessing the effects of life's unique factors on each individual. When the help that we offer is attractive, comfortable, and culturally responsive, families will be inspired to believe that positive change can occur.
PRN FOR FAMILIES
A home-based family outreach program that empowers families
Our Services
Charles Elias developed the Family Preservation, Reunification and Networking model of services to reach families in their own homes and empower them with the tools, resources and support they need to safely stay together. The PRN for Families team prides itself in developing customized service plans to help each family succeed.
ASSESSMENT PHASE
The family assessment phase takes place during a period of five days within the family's own home. Specific goals and objectives are developed together and a unique plan is created.
INTERVENTION PHASE
The intervention phase is marked by intensive delivery of customized services to the family in their own home, based on the family needs, goals, objectives, and desired outcomes.
RESOLUTION PHASE
We provide ongoing support and family resources through continued phone and e-mail contact to help resolve issues that may arise for up to one year to ensure ongoing success.
AFTERCARE & RELAPSE
Aftercare and relapse services help the family to retain any gains that have been made, and is one of the many unique services that PRN for Families offers to preserve healthy families.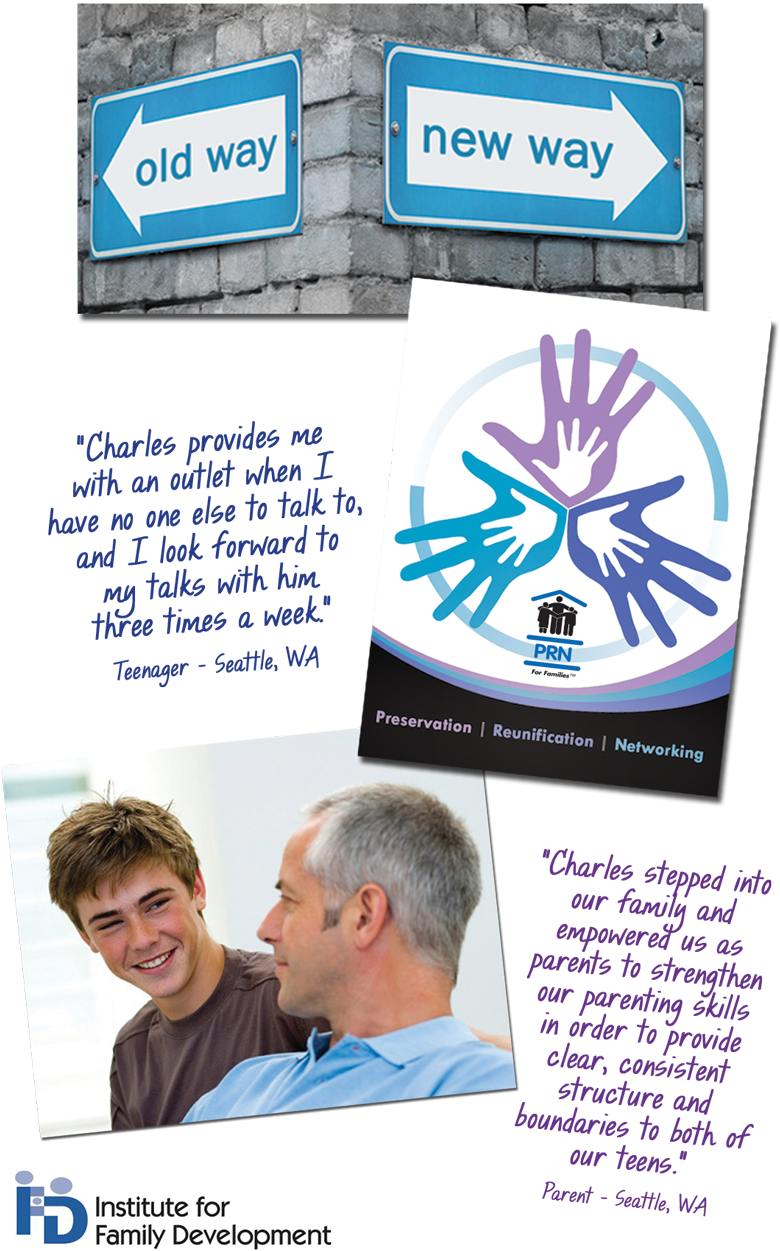 READ ABOUT OUR PROGRAMS
We pride ourselves in developing customized plans to preserve healthy families. Read through our site to learn more about all that we offer.

OUR ACCREDITATION
PRN for Families is recognized by The Joint Commission as a Top Performer on Key Quality Measures® for Behavioral Health Care.